Hello everyone!
I know you already are aware of the Strip Jewel Game featuring BloodySugar… but we recently added the second character strip tease… and in case you didn't notice or you're a newcomer, check this out. You can play the free demo version here:
http://www.bloodysugar.com/preview3.html
but if you really want to play in all relax and you're a site member, try the Classic Mode! The timer mode is indeed challenging, but I love Classic without timer because I can pause the game and play it later…

Now you can choose between two sexy characters to undress, BloodySugar and Irina the French maid. We'll add new characters soon. GG!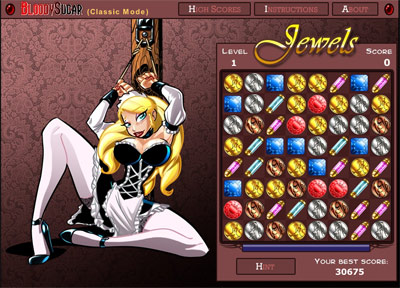 …Do you like this game and want to put a link on your site? Feel free to use this banner!